The Role of a Publication Officer: How One Institution Is Working to Bridge the Manuscript Submission Gap for Researchers [Video]
In this video, a Duke University Publication Officer discusses challenges that researchers experience when trying to publish their work. Watch the video to learn more!
Updated on July 11, 2018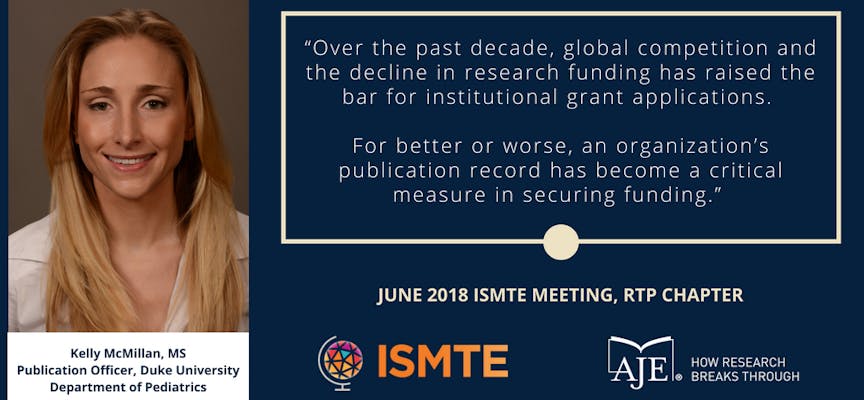 At the most recent meeting of the RTP chapter of the International Society of Managing and Technical Editors (ISMTE), Kelly McMillan, a Publication Officer with Duke University Department of Pediatrics discussed the topic, "Pre-publication support: Working with authors to bridge the submission gap." Ms. McMillan joined the department in this new role in 2016. She works with individual faculty members and leads workshops to educate teams on manuscript writing and submission.
At the ISMTE meeting, Kelly sought to provide insights for editorial staff about the barriers of publishing that researchers sometimes experience. She noted that, "over the past decade, global competition and the decline in research funding has raised the bar for institutional grant applications. For better or worse, an organization's publication record has become a critical measure in securing funding."
Watch the video below to learn about the unique ways Publication Officers are helping researchers navigate the changing publication environment, including increasing the output and quality of scientific manuscripts.