How to Build Great Slides for Your Research Presentation
Presentations are important for researchers, so make sure your slides are easy to read.
Cut down on text, and use images where possible.
Remember that your slides don't have to explain themselves; minimize what's on the slide in favor of explaining the contents yourself.
Updated on April 1, 2010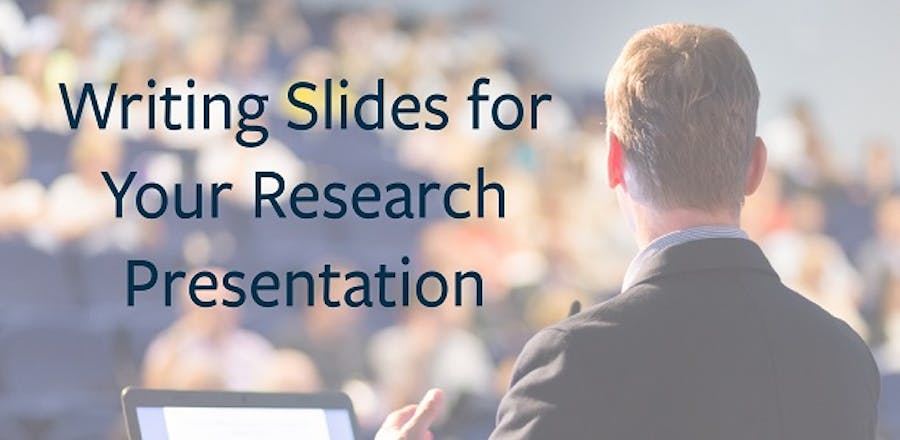 This editing tip deals with a different kind of writing: slides in a presentation.
Researchers have many roles in addition to the important work they do each day in the lab, the library, or the field. They must also be good readers, writers, reviewers, and presenters. In particular, presentations and talks are an important way to share your results with others your field, and being invited to speak is a great honor. But how do you convey your research results clearly in a presentation?
Cut down on the amount of text
Remember that your audience will be listening AND watching. If you put up a slide with lots of words, most people will focus on reading instead of listening to you. Any important points you are making might be lost. Always ask yourself, do I need full sentences on this slide? Would a single phrase or even one word be sufficient, given that I can explain it verbally? (If people will be downloading your slides later, consider adding some additional context in the "notes" section of the presentation.)
Use images
In some cases, you may not need text at all. Is there an image you can use to introduce a topic? With pictures, the audience is able to continue listening more easily while they view the slide. As long as pictures can prompt you to make the points you need to make, they are a great way to reduce the text clutter in a presentation.
Download these slides to view examples of how to format text, graphics, and animations.
Control the pace of new information
With a book, the reader controls the pace. In your presentation, you do. If you want to make sure that quick readers don't get ahead of the points you'll be talking about, don't provide all of your text at once. Instead, animate each line or bullet point so it appears when you're ready to discuss it.
Also, be careful that your title doesn't reveal the conclusion of the slide. If you bring up a slide that is entitled "Protein A is required for proper heart function," the audience will immediately know the results of your experiments (and they may stop listening). Consider mentioning your research question or your experiments instead – that way you can lead the audience through the data and provide the conclusion at the end.
Other formatting suggestions
If you are using text (for example, a bulleted list), be sure that the text is easy for the audience to read.
Check carefully for spelling errors, which can be very distracting to the audience.
Consider adding some space between lines or paragraphs (an empty 10 pt line is quite effective).
Watch your parallel structure. If most items in your list are full sentences, make sure all items are full sentences. (Note that this list includes items that all start with a verb.)
Choose a font that looks professional and clear and a large font size whenever possible. Just because something can easily be read while sitting at your computer doesn't mean it will be visible to the audience in the back of a large room. While there is no firm rule, aim for at least a font size of 24.
Overall, remember that your slides don't have to explain themselves – a good presentation requires a presenter to fill in the important details for the audience. Let your slides guide your story, but not tell it themselves.
If you have questions about describing your research on a presentation slide, please write to us at [email protected]. Best of luck with your next research presentation!
Presenting a poster, not a talk? Learn more about how AJE can help with your poster.