Scope and Delimitations in Research
Delimitations are the boundaries that the researcher sets in a research study, deciding what to include and what to exclude. They help to narrow down the study and make it more manageable and relevant to the research goal.
Updated on October 19, 2022

All scientific research has boundaries, whether or not the authors clearly explain them. Your study's scope and delimitations are the sections where you define the broader parameters and boundaries of your research.
The scope details what your study will explore, such as the target population, extent, or study duration. Delimitations are factors and variables not included in the study.
Scope and delimitations are not methodological shortcomings; they're always under your control. Discussing these is essential because doing so shows that your project is manageable and scientifically sound.
This article covers:
What's meant by "scope" and "delimitations"
Why these are integral components of every study
How and where to actually write about scope and delimitations in your manuscript
Examples of scope and delimitations from published studies
What is the scope in a research paper?
Simply put, the scope is the domain of your research. It describes the extent to which the research question will be explored in your study.
Articulating your study's scope early on helps you make your research question focused and realistic.
It also helps decide what data you need to collect (and, therefore, what data collection tools you need to design). Getting this right is vital for both academic articles and funding applications.
What are delimitations in a research paper?
Delimitations are those factors or aspects of the research area that you'll exclude from your research. The scope and delimitations of the study are intimately linked.
Essentially, delimitations form a more detailed and narrowed-down formulation of the scope in terms of exclusion. The delimitations explain what was (intentionally) not considered within the given piece of research.
Scope and delimitations examples
Use the following examples provided by our expert PhD editors as a reference when coming up with your own scope and delimitations.
Scope example
Your research question is, "What is the impact of bullying on the mental health of adolescents?" This topic, on its own, doesn't say much about what's being investigated.
The scope, for example, could encompass:
Variables: "bullying" (dependent variable), "mental health" (independent variable), and ways of defining or measuring them
Bullying type: Both face-to-face and cyberbullying
Target population: Adolescents aged 12–17
Geographical coverage: France or only one specific town in France
Delimitations example
Look back at the previous example.
Exploring the adverse effects of bullying on adolescents' mental health is a preliminary delimitation. This one was chosen from among many possible research questions (e.g., the impact of bullying on suicide rates, or children or adults).
Delimiting factors could include:
Research design: Mixed-methods research, including thematic analysis of semi-structured interviews and statistical analysis of a survey
Timeframe: Data collection to run for 3 months
Population size: 100 survey participants; 15 interviewees
Recruitment of participants: Quota sampling (aiming for specific portions of men, women, ethnic minority students etc.)
We can see that every choice you make in planning and conducting your research inevitably excludes other possible options.
What's the difference between limitations and delimitations?
Delimitations and limitations are entirely different, although they often get mixed up. These are the main differences: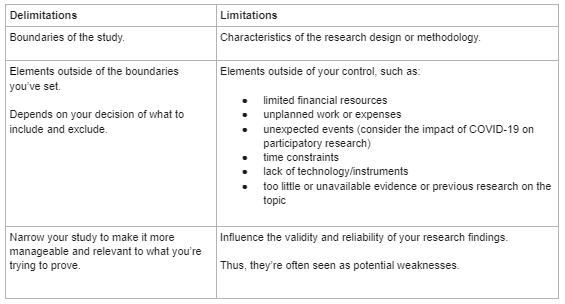 This chart explains the difference between delimitations and limitations. Delimitations are the boundaries of the study while the limitations are the characteristics of the research design or methodology.
Delimitations encompass the elements outside of the boundaries you've set and depends on your decision of what yo include and exclude. On the flip side, limitations are the elements outside of your control, such as:
limited financial resources
unplanned work or expenses
unexpected events (for example, the COVID-19 pandemic)
time constraints
lack of technology/instruments
unavailable evidence or previous research on the topic
Delimitations involve narrowing your study to make it more manageable and relevant to what you're trying to prove. Limitations influence the validity and reliability of your research findings. Limitations are seen as potential weaknesses in your research.
Example of the differences
To clarify these differences, go back to the limitations of the earlier example.
Limitations could comprise:
Sample size: Not large enough to provide generalizable conclusions.
Sampling approach: Non-probability sampling has increased bias risk. For instance, the researchers might not manage to capture the experiences of ethnic minority students.
Methodological pitfalls: Research participants from an urban area (Paris) are likely to be more advantaged than students in rural areas. A study exploring the latter's experiences will probably yield very different findings.
Where do you write the scope and delimitations, and why?
It can be surprisingly empowering to realize you're restricted when conducting scholarly research. But this realization also makes writing up your research easier to grasp and makes it easier to see its limits and the expectations placed on it. Properly revealing this information serves your field and the greater scientific community.
Openly (but briefly) acknowledge the scope and delimitations of your study early on. The Abstract and Introduction sections are good places to set the parameters of your paper.
Next, discuss the scope and delimitations in greater detail in the Methods section. You'll need to do this to justify your methodological approach and data collection instruments, as well as analyses
At this point, spell out why these delimitations were set. What alternative options did you consider? Why did you reject alternatives? What could your study not address?
Let's say you're gathering data that can be derived from different but related experiments. You must convince the reader that the one you selected best suits your research question.
Finally, a solid paper will return to the scope and delimitations in the Findings or Discussion section. Doing so helps readers contextualize and interpret findings because the study's scope and methods influence the results.
For instance, agricultural field experiments carried out under irrigated conditions yield different results from experiments carried out without irrigation.
Being transparent about the scope and any outstanding issues increases your research's credibility and objectivity. It helps other researchers replicate your study and advance scientific understanding of the same topic (e.g., by adopting a different approach).
How do you write the scope and delimitations?
Define the scope and delimitations of your study before collecting data. This is critical. This step should be part of your research project planning.
Answering the following questions will help you address your scope and delimitations clearly and convincingly.
What are your study's aims and objectives?
Why did you carry out the study?
What was the exact topic under investigation?
Which factors and variables were included? And state why specific variables were omitted from the research scope.
Who or what did the study explore? What was the target population?
What was the study's location (geographical area) or setting (e.g., laboratory)?
What was the timeframe within which you collected your data?
Consider a study exploring the differences between identical twins who were raised together versus identical twins who weren't. The data collection might span 5, 10, or more years.
A study exploring a new immigration policy will cover the period since the policy came into effect and the present moment.
How was the research conducted (research design)?
Experimental research, qualitative, quantitative, or mixed-methods research, literature review, etc.
What data collection tools and analysis techniques were used? e.g., If you chose quantitative methods, which statistical analysis techniques and software did you use?
What did you find?
What did you conclude?
Useful vocabulary for scope and delimitations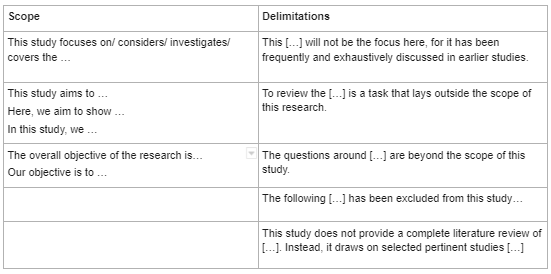 When explaining both the scope and delimitations, it's important to use the proper language to clearly state each.
For the scope, use the following language:
This study focuses on/considers/investigates/covers the following:
This study aims to . . . / Here, we aim to show . . . / In this study, we . . .
The overall objective of the research is . . . / Our objective is to . . .
When stating the delimitations, use the following language:
This [ . . . ] will not be the focus, for it has been frequently and exhaustively discusses in earlier studies.
To review the [ . . . ] is a task that lies outside the scope of this study.
The following [ . . . ] has been excluded from this study . . .
This study does not provide a complete literature review of [ . . . ]. Instead, it draws on selected pertinent studies [ . . . ]
Analysis of a published scope
In one example, Simione and Gnagnarella (2020) compared the psychological and behavioral impact of COVID-19 on Italy's health workers and general population.
Here's a breakdown of the study's scope into smaller chunks and discussion of what works and why.

Also notable is that this study's delimitations include references to:
Recruitment of participants: Convenience sampling
Demographic characteristics of study participants: Age, sex, etc.
Measurements methods: E.g., the death anxiety scale of the Existential Concerns Questionnaire (ECQ; van Bruggen et al., 2017) etc.
Data analysis tool: The statistical software R
Analysis of published scope and delimitations
Scope of the study: Johnsson et al. (2019) explored the effect of in-hospital physiotherapy on postoperative physical capacity, physical activity, and lung function in patients who underwent lung cancer surgery.
The delimitations narrowed down the scope as follows:

Refine your scope, delimitations, and scientific English
English ability shouldn't limit how clear and impactful your research can be. Expert AJE editors are available to assess your science and polish your academic writing. See AJE services here.