Benefits of Promoting Your Research at a Conference
Academic conferences often get overlooked when it comes to research promotion. They are a great way to show off your research through public speaking and visual graphs. Increase your citations by promoting your research at an academic conference.
Updated on August 4, 2022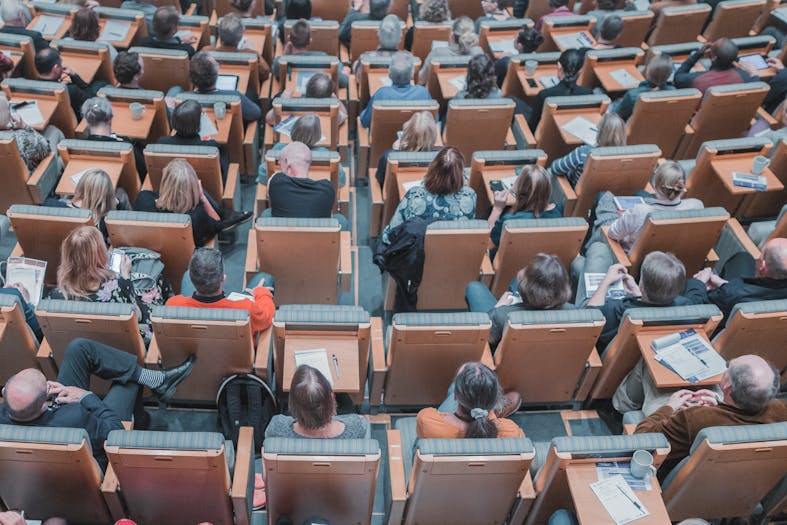 It's important to PROMOTE, PROMOTE, PROMOTE your research work. And then PROMOTE it again.
Picture the scene. You've just published your latest research paper, hopefully in a leading international with a decent Impact Factor.
What happens next?
Well for one thing, it's important to CELEBRATE!! You did great. This is an achievement. For most researchers, the peer review and publication cycle can be such an arduous process, they just want to sit back, relax, and wait for the citations to start rolling in.
Instead, consider promoting your research at an academic conference. Continue reading to learn the benefits of presenting your work at conferences.
Promote your research at academic conferences
You already attend them. You're already present at them. You already prepare for them. Conferences are one of the only times during the year when you have a captive audience helping you raise the visibility of your work by tweeting about it, by sharing it on other sharing sites, and by listening to your presentation.
Promote your conference through social media
Social media and research promotion relies on amplification - simply, it relies on you doing something that a few more people will see and a few more people will see, and so on.
So the next time you are considering where to put your investment into raising the visibility of your work, and you don't have time to cultivate that online audience, consider how investing in your conference materials and monitoring online conversations around it may be a great way to achieve your outreach goals.
Graphics
At the same time, if you aren't presenting at a conference, graphical abstracts are a great way to communicate the key insights from your paper. They can be printed and passed out (just like people do with their whole manuscript!), but are handy and easy to carry around.
Why not hop on Twitter and follow the hashtags? You can always piggy back a conversation with your own thoughts and research. This helps enhance visibility for the author (amplification is a two way street) and helps you pick up some of the conference attention to build your network.
Why should you promote your research at conferences?
Citations
Post-publication article promotion is very important to ensure your article receives the attention and all those important citations it deserves. We write papers, after all, so other researchers will read them and use them to drive up our H-index, R-index as well as the reputation of our institution.
Citations remain one of the main ways researchers around the world are assessed, ranked, and funded.
Take every opportunity to promote your research
Don't just wait passively for people to find your article. Promote it!
Talk about your work at conferences (online and in-person) as well through your (and your institution's) social media, press releases, and the regular media.
Researchers are increasingly expected to have a role in promoting their work. They're expected to show its impact. They're expected to demonstrate to their institutions and funders that they are playing a vital and interventional role in advancing science. The list goes on.
All of this is a pretty big ask. Not a lot of people are great at promoting their work. But there are some simple things you can do that will have a big impact on your success in raising the visibility of your research.
But first, let's talk about why this is so hard. You probably had a mentor showing you the ropes of how to get published - helping you with your language, your phrasing, how to identify key insights and then put them into a manuscript that will show a journal your work's importance to the field.
There are also service providers like AJE (wink wink) that will help you because we have done a lot of work to make sure our services reflect your publication needs.
Then, it gets published. Hooray! That's great news. But, now what?
Social media, research sharing sites, and digital forms of raising the visibility of your work are a fairly recent thing, relatively speaking. And while they are an incredibly powerful tool, they can also be pretty fickle. What's trending one day, may be old news by the next. This means that you have to actively establish a network by nurturing connections made on these platforms.
One thing we constantly hear from researchers is that they don't have the time.
So, how can you create a win-win for yourself? What activities are you already doing that you could enhance to create a lot of visibility for your work with a limited increase in effort?
AJE are here to help
There's no denying it. Research communication is hard! There are whole and established careers for communicating about research. If you've ever had a conversation with that Public Information Officer at your institution? It's their whole job.
We have a team of scientifically trained writers, illustrators, and animators, here, ready to help you achieve your conference goals. We can help you identify the key insights that will be most interesting to your audience, share them in a visually engaging way, and write them so all your potential audiences will understand the importance of your work. Check out our research promotion services to get the word out about your manuscript.
We are an important partner in raising visibility about your work! We want to share in your successes - let us know what you do, so we can celebrate it!