What is Knowledge Management?
This article discusses the concept and processes of knowledge management and its various definitions. Knowledge management is a discipline that aims to systematically create, share, use and manage the knowledge and information of an organization. Various tools and software are available to help organizations manage their knowledge-based assets.
Updated on May 5, 2023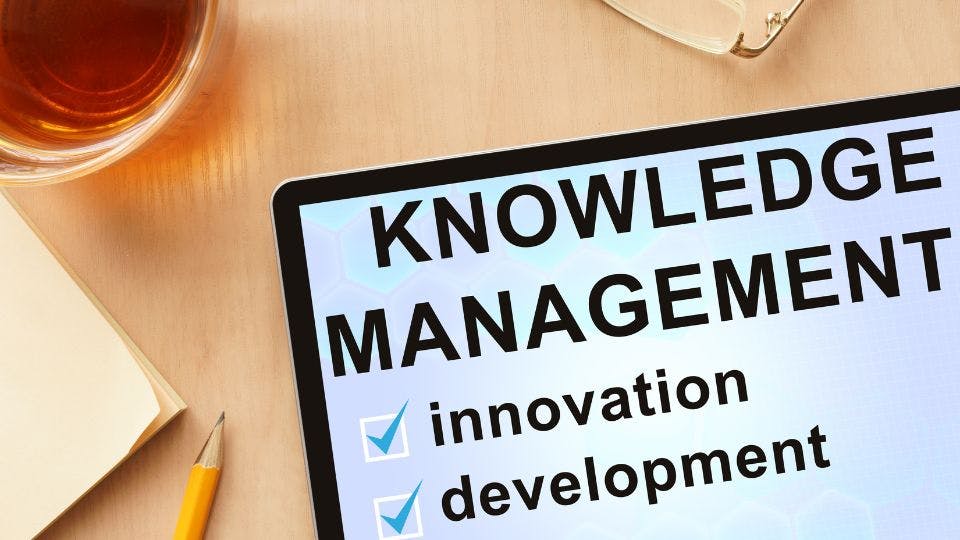 Definitions and Lineage
In a 2015 study, John and JoAnn Girard analyzed over 100 definitions of Knowledge Management (KM) representing authors in 13 countries and from 23 areas of expertise. Their research illustrates the multidisciplinary nature of knowledge management. 
While there is no singular interpretation, most definitions clearly share some key elements. 
Knowledge management is:
All of the interpretations of KM arise from the same need to systematically deal with a specific kind of knowledge, business knowledge.
Business knowledge (BK) is a conglomeration of the skills, processes, and experiences a business relies upon to function and succeed. It exists within not only individuals and groups but also the organization itself. 
Some examples of business knowledge include:
skills, competencies and experiences of the workforce
designs and processes for goods and services
industry or market data gained from research
files or documents (electronic or otherwise)
customer data or information on suppliers and stakeholders
plans for future activities, products, and services
While business knowledge gave rise to the concept of knowledge management, BK is but one dimension of knowledge in general. Most types of knowledge fall broadly into one of three umbrella categories:
Explicit knowledge
Implicit knowledge
Tacit knowledge
*There can be overlaps and outliers among the types of business knowledge.
See the definitions of these categories in the infographic below: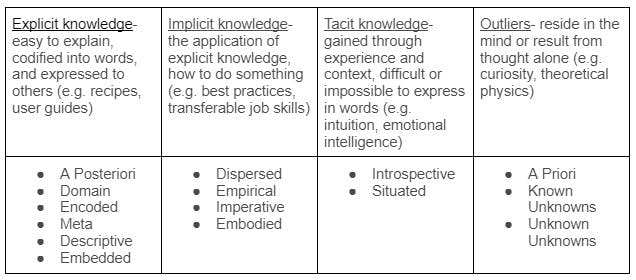 These examples represent the vast and ever-growing realms of knowledge, but the list is not comprehensive. For a useful overview, see Chris Drew's "The 14 Types of Knowledge."
With an understanding of the definition and lineage of knowledge management, the next step is putting the concept into practice. This article will discuss the process of knowledge management.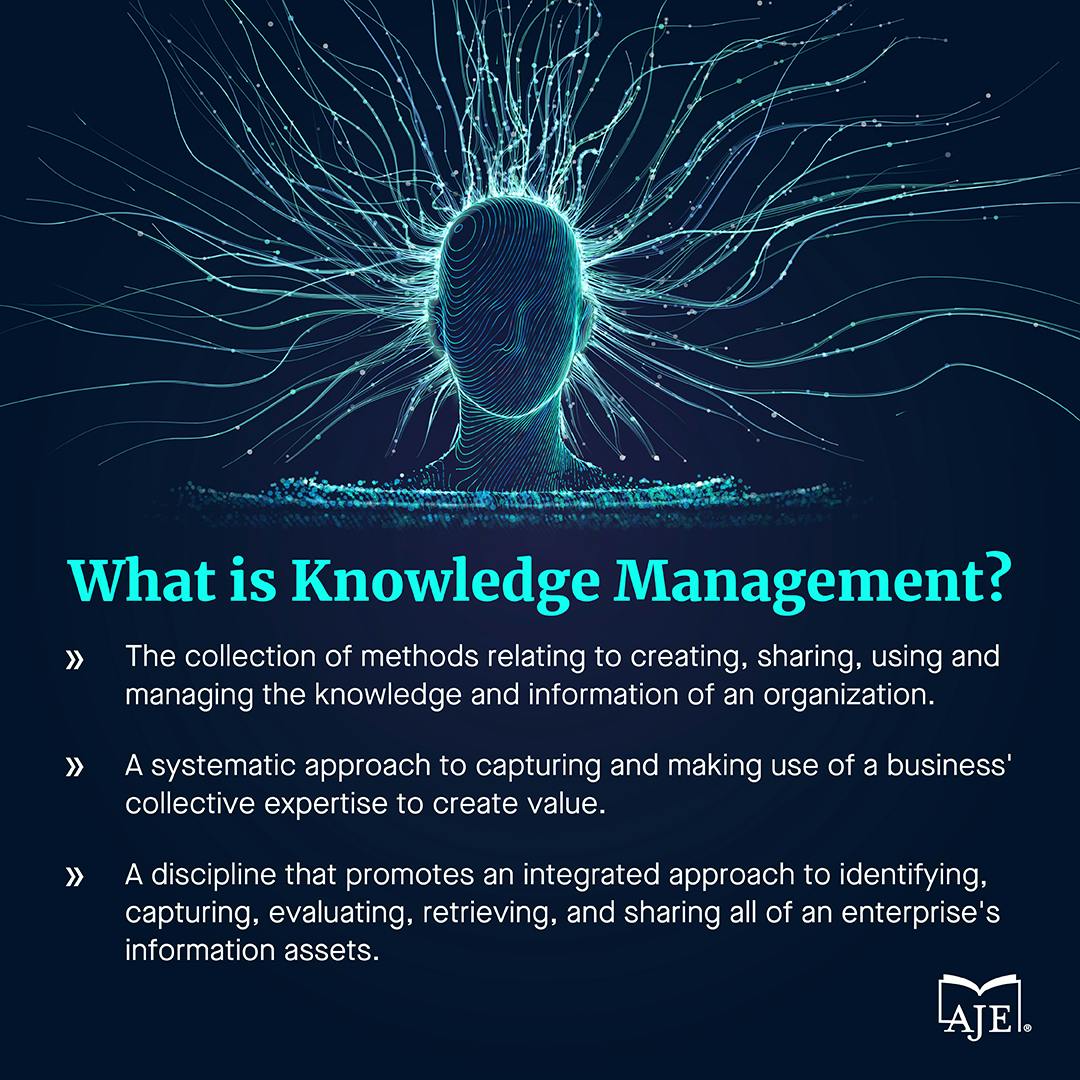 Knowledge management process
Step 1: Knowledge Discovery
One mechanism for knowledge discovery (KD) within an organization is through a knowledge audit. This may be in the form of a formal, comprehensive assessment of knowledge assets, including explicit and tacit knowledge, intellectual capital, expertise, and skills. 
Or, the information may be gained through a specialized task force that conducts interviews and surveys, reviews performance assessments, market research, and customer feedback, and also filters through the organization's stored information.
Regardless of the technique, discovery must examine the entire body of the enterprise by considering these three levels:
Individual: the tacit, implicit, and explicit knowledge of each team member, past and present
Group: the values, procedures, lessons, and relationships created at the team and department levels
Structural: the values, culture, processes and proprietary knowledge found at the organizational level
Although the term knowledge discovery is sometimes confused with knowledge discovery in databases (KDD), or data mining, it is obviously more complex. KD incorporates KDD as one strategy to identify an organization's knowledge assets at multiple levels and through various personalities.
2. Knowledge Capture
Much of the explicit and some of the implicit knowledge is captured by an organization through regular business practices. Some examples include:
Documents 
Files
Emails
Messages
Internal and external databases
SOPs
Books
Videos
Employee handbooks
Manuals
It takes additional time and effort to capture the implicit knowledge that is not yet documented. But the real challenge is capturing tacit knowledge that only exists in an individual's mind. Because tacit knowledge is personal and context specific, expressed as behaviors and instincts, many people do not realize they possess beneficial valuable insights.
Organizations must be purposeful in their efforts to capture the tacit knowledge of team members, customers, and affiliates. This begins with encouraging a knowledge-sharing culture across all facets of the organization by setting up accessible lines of communication, such as intranets, communities of practice, testimonials, and feedback opportunities. 
Promoting hands-on training and coaching captures and preserves tacit knowledge. It makes the work environment friendly to learning, teaching, and collaboration. These practices inherently address knowledge gaps by offering different perspectives through other people's experiences.
It is crucial for companies to turn this tacit knowledge into explicit knowledge through documentation so it can be easily accessed in the future.
3. Knowledge Indexing
Identifying and acquiring this invaluable knowledge is pointless if it is difficult or impossible to find. Organizations must employ specialized tools and software to evaluate and organize their knowledge-based assets by topic, purpose, and relevance so they are searchable and retrievable. 
At this point in the process, organizations are compelled to invest in professional knowledge management tools to create systems, techniques, and frameworks that align with their business strategies. Here are some examples of knowledge management tools currently on the market:
Knowledge organization is the pivot point for any KM system. If it is not comprehensive and robust, the phases that came before are futile, and those that come after are null. The process of coordinating all of a business' pertinent knowledge improves not only its efficiency but also its culture. Knowledge organization ensures these resources are centralized, transparent, and shareable.  
4. Knowledge Assessment
Once the knowledge base is organized and classified, it must go through an initial stage of analysis and optimization to check for any information that is incorrect, redundant, or poorly formatted. This is accomplished by various means:
Knowledge Content Specialists: These specialists refine content from original formats into knowledge products that are accessible and usable for others.
Binary Feedback: Asking direct yes or no questions of both team members and customers to learn knowledge usability factors, like format preferences, essential topics, and gaps or confusion in the data.
Usability Testing: Measures how easy the knowledge assets are to use and their capacity to meet the intended purpose. Three methods are employed to generate different types of information, explorative tests, assessment research, and comparative research. 
These tools are appropriate for vetting resources before an organization launches a new knowledge management strategy. They also update existing assets and continuously examine additional input. When combined with reliable weeding and archiving practices, knowledge assessment encourages an uninterrupted flow of knowledge throughout the organization.
5. Knowledge Distribution
Ease of access and sharing are the key areas of focus in this final step of the knowledge management process. When approached properly, knowledge distribution fuses the efforts from previous steps to make the KM system a reality instead of just a concept.
Most techniques for distributing knowledge fall into two main strategies known as "push" and "pull". This illustration shows how these terms relate to knowledge.
The push component happens when organizations provide opportunities for team members to codify personal knowledge into explicit content, such as documents and databases. They are then submitted to shared repositories. Some tools required for knowledge push success are: 
Content editors
Collaborative authoring tools
Content taxonomy and tagging systems
Wikis and libraries
Bookmarking engines
Expert systems (software emulating human experts)
Smart search engines with filters
Enterprise search
Pull is a more social approach to knowledge distribution. It requires communication between two or more individuals, asking questions, having conversations, or interacting through teaching and learning activities. Knowledge pull, sometimes referred to as personalization, relies less on technology and more on building networks and relationships. Organizations can implement countless cost-effective techniques to encourage knowledge pull:
Brainstorming sessions
Videoconferences
Corporate training and courses
Communities of Practice
Workshops
After-action reviews
Expert directories
Social channels
Above all, knowledge distribution practices must consider the ease of access to the resources, the opportunities for sharing and collaborating, and the security measures put in place to protect both the knowledge assets and its users.
Final thoughts
Developing a strong knowledge management system is essential for businesses of any size or form. It works to speed up the access to information and knowledge, improve decision-making processes, promote innovation and cultural change, and improve efficiency. 
Each of the five steps explored in this article represents a vital piece of the knowledge management puzzle. When they are assembled with diligence and intention, an organization, its team members, customers, and associates begin to experience and appreciate the full picture, the knowledge capital, they all work to create.