How to Choose the Best AI Editing Tool for Academic Writing
Among the four top AI proofreading and editing tools compared, AJE Digital Editing stands out as the most suitable and comprehensive tool for academic writing, while other tools may be more appropriate for personal or business use during the drafting phase.
Updated on August 1, 2023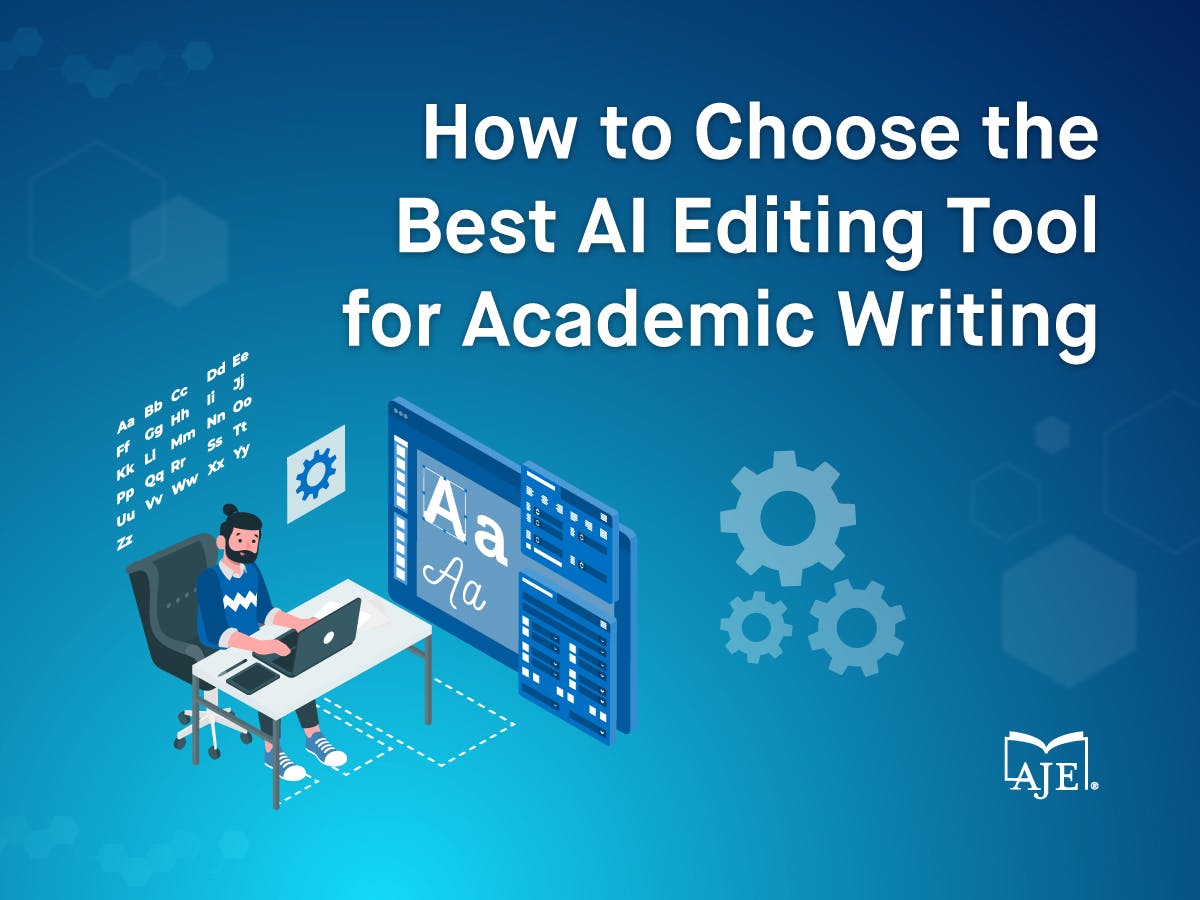 When it comes to AI writing tools, there is something for every situation, from autocorrect software for text messaging and spell checkers for email to full blown proofreading software and content generation. 
While it seems obvious to not autocorrect your book manuscript or use advanced editing software on your social media posts, all the gray areas in between can be confusing. 
Let's start with the basics. While all AI proofreading tools are AI writing tools, not all writing tools are capable of proofreading and editing. On a similar note, just because an AI writing tool is familiar or popular, does not mean it's the best in every situation.
By exploring the purpose of various types of AI writing tools, we can determine the most appropriate times to use them. We can then look more closely at four of the top AI proofreading and editing tools to determine which is the best for academic writing.
What are the types of AI writing tools?
AI writing tools are artificial intelligence (AI) software applications that use machine learning algorithms to automate the writing process. Some have very specific functions, like correcting spelling errors, while others act more broadly as comprehensive writing assistants.
Commonly, AI writing tools provide one or more of these services:
Content generation: produces text through natural language processing (NLP) and natural language generation (NLG)
Proofreading: identifies errors in grammar, punctuation, spelling, and capitalization
Editing: corrects issues with style, vocabulary, formatting, and clarity
Citation generation: produces and edits citations in various citation styles
Paraphrasing: rephrases content while maintaining the original meaning
Summarizing: condenses text into a more concise version with the same meaning
Developing research questions: generates countless iterations of potential research questions based on general data input
Translating: changes the source content into a different specified language while also retaining the meaning
When should you use these different tools?
Knowing what kinds of AI writing tools are available is an important first step in making an informed choice. To effectively match the right tool with your specific situation, however, it helps to ask a couple of key questions:
What am I writing and for whom?
undefinedundefinedundefined

At what point am I in the writing process? 
Discovery\investigation: You can use an AI text summarizer, such as Quillbot or ChatPDF, to quickly sift through potential sources and find those most pertinent to your work. Then, employ an AI tool like INK to generate research questions that reflect your project's unique path.
Prewriting: Expand on your research questions with an AI brainstorming session utilizing HyperWrite or other similar tool. Turn those ideas into an outline with an AI outline generator like Wordtune and then develop a strong thesis with an AI tool like Smodin.
Drafting: A content generator is a convenient way to kickstart the drafting phase. By offering personalized content that reflects your varied sources and ideas, AI tools such as SEO.ai, Jasper, and Copy.ai can streamline this process.
Editing: Many authors apply an AI proofreader throughout the writing process to catch straightforward spelling and grammar errors. Once completed, though, it is imperative to have an editor improve the clarity, conciseness, flow and overall readability of your work. With the vast array of AI tools suitable for editing, it is important to know how they perform within the previously discussed categories.
Which AI proofreading and editing tool is best for academic writing?
Here's a closer look at four of the top tools:
Examples
The following example not only illustrates the capabilities of these four AI proofreading tools but also highlights their limitations.
Original text: 
This study designed before-after study in the same patients rather than a parallel control as the periodontal morphology and periodontal environment of patients differ; thus, the gingival papilla defect may be due to one or more factors.
Grammarly:

Microsoft Editor:

ChatGPT:

AJE Digital Editing:

As expected, the first two tools only identified the grammatical error and suggested an appropriate solution. While ChatGPT proposed more extensive editing that enhanced the clarity of the text, it missed inaccuracies specific to the scientific language used in research manuscripts. ChatGPT further failed to make the text more concise. AJE Digital provided a comprehensive edit that preserved the academic language and style while also improving the overall readability and conciseness.
Final thoughts
There are specialized tools for everything. From can openers to chainsaws, each tool is crafted for a particular purpose. The same holds true for AI tools for writing. Every type of writing and aspect of the writing process has specific tools that perform the best. 
Knowing what kind of AI writing tools are available and what they do is an essential first step in choosing the right one. Authors must then ask a few key questions about what they are writing and for whom to really pinpoint which tool best fits their current needs.
After comparing four AI proofreading and editing tools, it was clear that not all are suitable for academic writing. Because it is tailored to serve researchers and authors of the academic writing community, however, AJE Digital was able to offer a complete editing solution.