5 Benefits of Presubmission Review
By utilizing the AJE Presubmission Review editing service, authors can gain insight into reviewer responses, identify areas that need clarification, learn best practices for research communication, save time by preventing setbacks, and increase their chances of being published or funded
Updated on June 14, 2023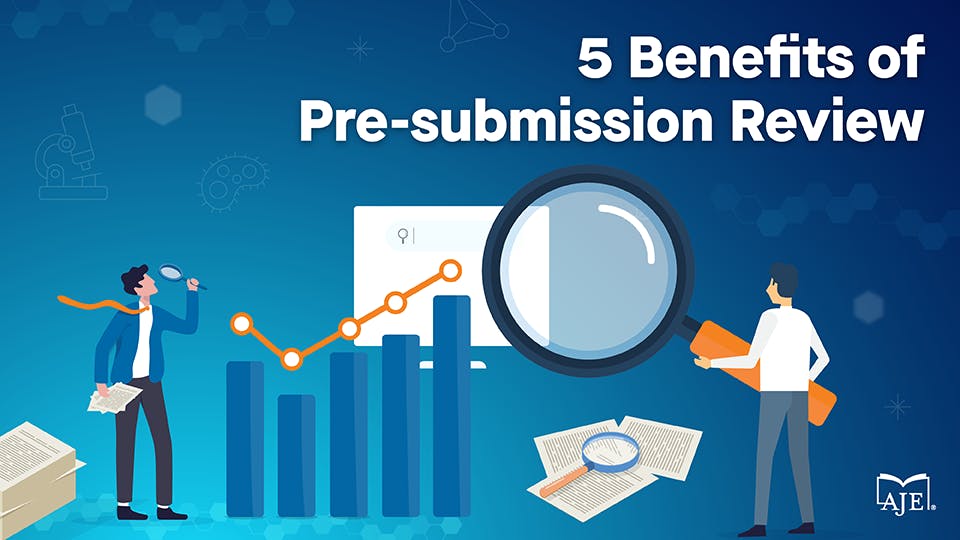 Authors may feel unprepared to submit a manuscript or proposal to a journal or funding agency for many reasons. They may be overwhelmed with the prospect of revising a full-length thesis into an article-length manuscript. They may be struggling to organize a paper with multiple author contributions. They may be worrying about deadlines or requirements to write in English.
Other authors who have painstakingly written their manuscripts or grant proposals are certainly disappointed when their submission is rejected. These authors may be surprised to learn that more work is needed to increase the clarity of the article or proposal.
Authors can relieve the uncertainty about the publishing process and avoid publication-related disappointment and delays using the AJE Presubmission Review editing service. Through Presubmission Review, authors receive expert advice from experienced editors in their field to reach their publishing or funding goals.
1) Gain insight into reviewer responses to a manuscript or proposal
Springer Nature manuscript reviewers are asked to address validity, novelty, significance, data/methods, statistics and conclusions of an article (1). National Institute of Mental Health grants are evaluated on the basis of aims, innovation, significance and approach (2). If the reviewers rate any one of these areas unfavorably, the manuscript will likely be rejected. 
Authors who use Presubmission Review receive advice on ways to connect the methods, analysis, results and interpretation to the study aims with consistency and to explain the importance and aims of a study. They also benefit from suggestions to add, clarify or remove information to ensure that the proper level of detail, especially with respect to the methods and results, is presented.
With this information, authors can preemptively address potential problems with logic, clarity or specificity before submission.
2) Identify text that needs to be clarified
Authors who use the Presubmission Review service receive an overall assessment of their paper. Through comments directly added to the manuscript by expert editors, authors recognize where further attention is needed to
maintain reader focus on the key aim of the study
improve readability by establishing a narrative that flows naturally
clarify sections by optimizing the logic of the organization 
assure readers that ethics and field standards were met
provide information at the proper level of detail
Specifically, through Presubmission Review, authors receive feedback on potential errors in logic, flow, and scientific detail. It differs from English Editing, in which editors correct grammar, spelling, and diction. AJE customers who choose Presubmission Review receive both an overall manuscript review and English Editing.
Presubmission Review is an add-on service for AJE Premium language editing customers. After a manuscript or grant proposal is edited for phrasing, clarity, and grammar by an AJE language editor, the paper undergoes Presubmission Review by a manuscript reviewer. The edited paper is returned with suggestions for improvement. 
Similar to AJE language editors, Presubmission Review editors are matched to manuscripts based on area of study. Experienced AJE editors with advanced degrees review manuscripts in clinical sciences, life sciences, chemistry and earth sciences. Research articles, review articles and funding applications in these fields are eligible for Presubmission Review editing.
Presubmission Review editors do not remove or add text. The author ultimately decides on the recommendations to implement before submission to a journal or funding organization.
3) Learn best practices for research communication 
Through Presubmission Review recommendations, authors benefit from the opportunity to fix key omissions, flaws in logic, and composition errors highlighted by AJE manuscript reviewers. For example, authors may be asked to
Add clarification: Please consider adding descriptions of control groups (or experimental conditions, field sites, sample sizes or sample locations)
Move information: This information in the Discussion seems to explain the rationale for the study; therefore, please consider moving it to the Introduction 
Connect information: Please consider adding transition text to clarify how these facts relate to each other.
This advice relates to the specific manuscript undergoing review. However, the Presubmission Review suggestions can be reapplied to future projects throughout the careers of the authors.
4) Save time by preventing submission setbacks and publication delays
The research, writing, and publication process is laborious, tedious, and time-consuming. Presubmission Review editors can help lighten the load. 
Because all the suggested corrections are included in one file, authors have a master template for finalizing the submission. Therefore, they can systematically revise the manuscript, incorporating the suggestions and conferring with coauthors to submit a logical and clear narrative.
Efficient preparation of the first submission is critical because the timeline for a manuscript or grant review decision varies from weeks or months. Moreover, a rejection can delay publication by months. Two or more rejections can mean that the data are not published for years. Some grant applications are not accepted until the next round of reviews is scheduled.
Presubmission Review authors whose papers are published or whose grant applicants are funded clearly save time by avoiding the aforementioned delays due to rejection. However, authors whose papers have been rejected or have been returned for major revision can also save time with Presubmission Review.
When reviewers suggest that the manuscript topic is important but that extensive rewriting for clarity or reorganization is needed, authors can turn to AJE. Presubmission Review editors can help authors increase the likelihood that the next submission or re-evaluation is positively received.
5) Increase the likelihood of being published or funded
Through a well-organized narrative that supports the aim of the research, authors convincingly tell the story that their data represents.
With a clearly stated objective and explanation of the impact of their work on the field or society, authors get buy-in for their ideas.
When sections are presented in logical order and with the appropriate level of detail, authors retain reader interest.
Through consistent messaging, in which the objective is clearly stated in the Abstract, Introduction and Discussion, readers are convinced.
Through Presubmission Review, authors present a composition that is consistent with papers published or applications funded in their field. They can submit their work with increased confidence that it will receive a fair evaluation.
Final thoughts
Authors who use Presubmission Review services benefit from a comprehensive evaluation of the structure, consistency, and level of detail in their submission. These authors increase the likelihood of making a positive first impression on editors and reviewers.
References
Springer Nature. (2023). Peer review policy, process and guidance. Accessed June 11, 2023, from https://www.springer.com/gp/editorial-policies/peer-review-policy-process#toc-49266
National Institute of Mental Health. (n.d.). Common Mistakes in Writing Applications. Accessed June 11, 2023, from https://www.nimh.nih.gov/funding/grant-writing-and-application-process/common-mistakes-in-writing-applications