Partner With AJE
However you are looking to support your journals, authors, society, or institution, AJE has partnership options for you. Learn more about how we can help you with our range of manuscript and conference services.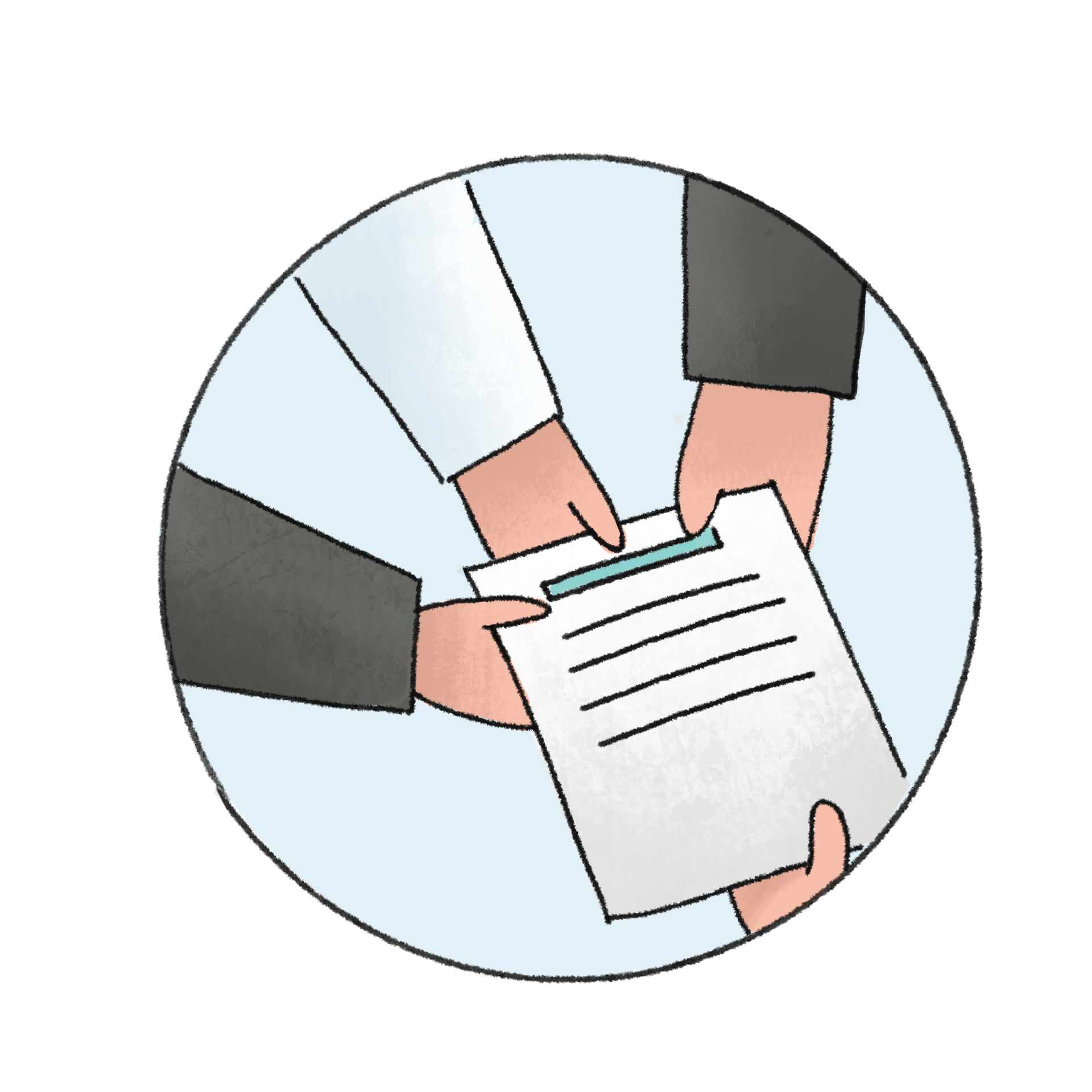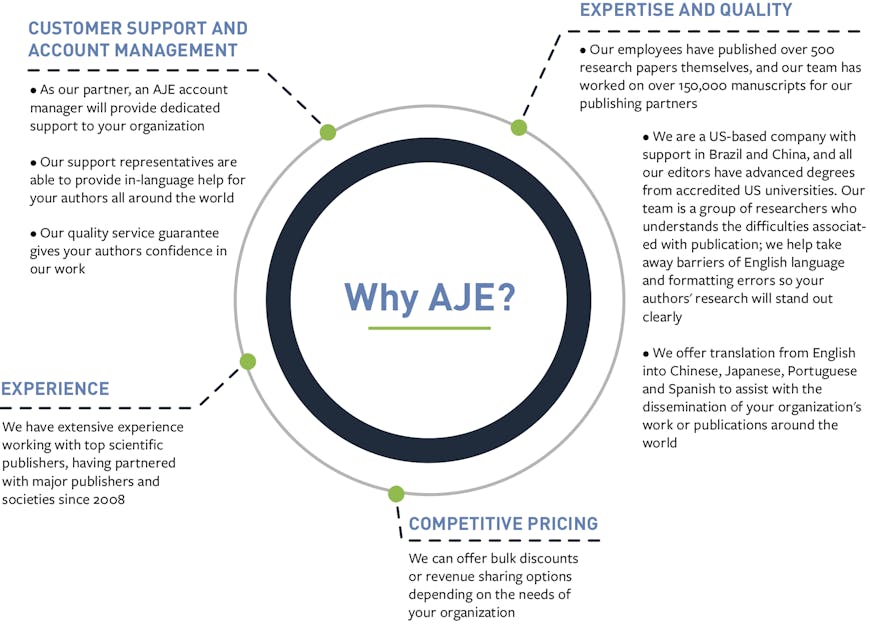 Customer support and account management
As our partner, an AJE account manager will provide dedicated support to your organization. Our support representatives are able to provide in-language help for your authors all around the world. Our quality service guarantee gives your authors confidence in our work
Competitive pricing
We can offer bulk discounts or revenue sharing options depending on the needs of your organization
Expertise and quality
Our employees have published over 500 research papers themselves, and our team has worked on over 150,000 manuscripts for our publishing partners. We are a US-based company with support in Brazil and China, and all our editors have advanced degrees from accredited US universities. Our team is a group of researchers who understands the difficulties associated with publication.
Experience
We have extensive experience working with top scientific publishers, having partnered with major publishers and societies since 2008. We help take away barriers of English language and formatting errors so your authors' research will stand out clearly. We offer translation from English into Chinese, Japanese, and Spanish to assist with the dissemination of your organization's work or publications around the world.
"Research Square have many talented editors. They offer a responsive, supportive and friendly service that is focused on the needs of authors. I am happy to recommend them."
Hazel Newton
Head of Researcher Services Springer Nature
"ACS has been using the English Editing Services of AJE for more than a year and can report without hesitation that the service is top notch. The work done by AJE editors is of the highest quality, and is prompt and reliable. ACS authors who have used the service express a very high level of satisfaction, and feel they have benefited through its use. ACS is happy to recommend AJE as a partner to anyone considering the use of such a service."
Charley Trowbridge
Director, Peer Review Operations American Chemical Society
Co-branded site or landing page
Our team will work to implement a co-branded site or landing page, or our products may be sold directly on your author services platform.
Private label site
We build a website and provide our services and customer support to your authors under your brand
Referral
We provide you with AJE links, logos, and text for your website so you can easily direct authors to AJE's services
Preferred group
This option is ideal for a smaller group who would still like to benfit from our partnership options. Any group of five or more people can beefit from our AJE Preferred Group Benefits program.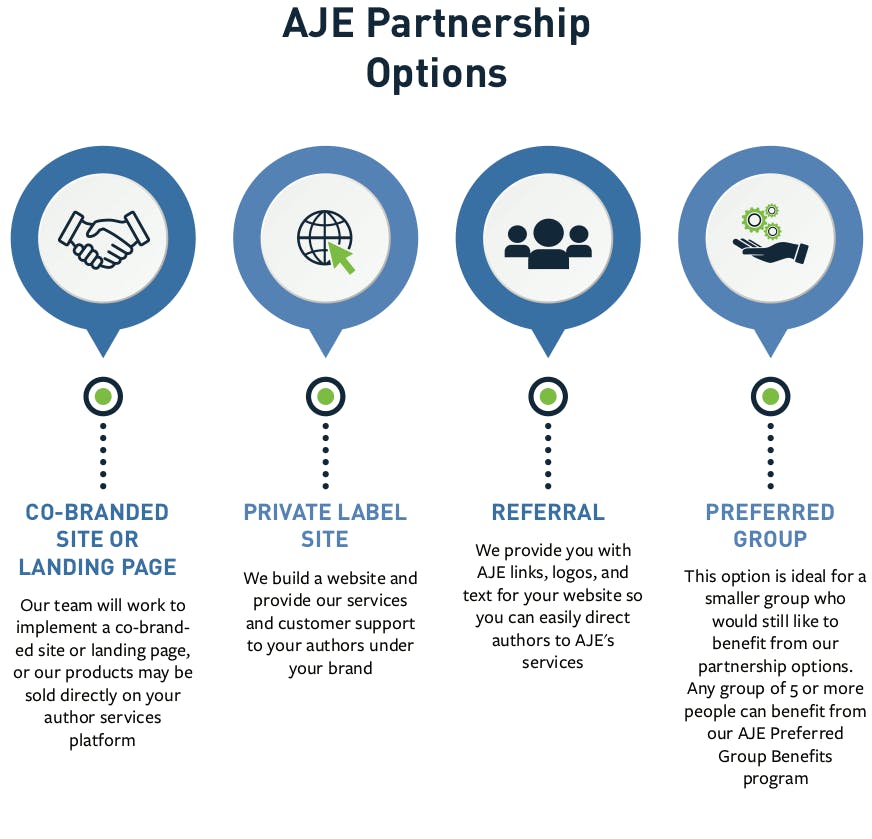 Partner With AJE
Complete the form below to speak with our Business Development team regarding partnership options for your organization.
Michael Snowden
Enterprise Account Executive
Business Administration
Shepherd University
Sheila Vieira, PhD
Academic Translation Advisor II, Customer Success Coordinator
Mechanical Engineering
UNICAMP
Partnerships